Winnifred Danfiela Grouper is a 17-year-old short ,lovable teenage goldfish and a cheerleader of Freshwater High. She makes a cameo appearances in Season 1 to 3, until Season 4.

Winnie was born on May 19, 1996, Younger than her sister Kimmy, Daughter of Penelope and Yandy, At 2 years old, she was so smart, she skipped a grade in pre-school, she was very bright, sensitive, and a good child, until Kimmy taught her to be bad until her mom told her not to by saying "Being bad is wrong, just be good and you'll be fine", at age 4, She tells her mom that she has a new friend, Tabitha, At age 6, her sister, Kimmy ran away. At age 9, Penelope, Winnie, and Yandy were camping until Yandy was caught by a fisherman and died. When Winnie was 13 years old, she attended Freshwater High and met Milo, Oscar, and Bea and Winnie joined the Cheer squad. When Sunny transferee to the school and joined the cheer squad, Winnie and Sunny were best friends. Soon, Penelope married Mr. Baldwin and Winnie had a new dad. And the Grouper/Baldwin family went camping and found Kimmy. Winnie is currently 17 years old living with Penelope, Mr.Baldwin, and Kimmy.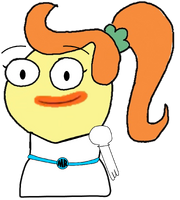 The Fish Divorce: Winnie was introduced to Mr. Baldwin by Penelope. In the end, She is entertained by Penelope and Mr. Baldwin's marriage.
'Girl's Night Out': Winnie was invited to a girls club.
A Day at The Western Side: Winnie was dissapointed about the western.
Baldwin's Limit: Winnie appears to be a good listener at the supermarket.
'My Housie Doggie': Winnie gets a puppy and named her Wendie Greeper.
Puppie Gone Bad: Winnie forces Wendie to leave the house. The family finding her.
'A Sister Roundup': Winnie appears with Kimmy.
Expounded!: Winnie appears to stop his father from taking the crown off him and started being a jerk to her. She got sent to Grunion School.
Randy Rules: Winnie started to hate Randy. She can't bully him, so her friends bullied him for her.
Teach me Chemistry!: Winnie was in chemistry class.
LambyPuff: Winnie loves baby lambs.
Performance Happiness: Winnie was forced to sing a beautiful song.
The Cheerleading Tryouts: Winnie accidentally hired Bea to cheerleading captain. explain the story.
Bea Sneaks Out....Again: Bea asks Winnie to sneak out to go to a party, Winnie refuses as she listens to his father's history lesson. Mr. Baldwin thinks Bea is a bad influence to Winnie. Winnie starts to hate Bea.