School is out, Mr. Baldwin gives the students their packets, but when Mr. Baldwin wants to see if everyone is doing their packet, Mr. Baldwin tells Winnie Grouper to spy on them.
Episode Summary
Edit
I will finish the ending
Kimmy Teaches Mr. Baldwin how to be smart and not stupid. Kimmy erases Mr. Baldwin's memory of stupidness with a Memory eraser flashlight pen. Penelope sees the therapist and asked why she was so loud. Penelope is short-tempered and always worried. And Winnie spies on all the kids expect Andi (She Hates Spying), Winnie sneaks up on Andi but notices her Mom and Dad have a Mexican party for Andi. Winnie lies to Andi's Parents that she is here to return books to Andi. Winnie goes to her room and places fake books on her table and sees her writing in the packet. Winnie has a joyful smile on her face. Kimmy and Mr. Baldwin go home and Kimmy's library books are suddenly missing. Winnie used Kimmy's books. Winnie gets home and show the pictures to Mr. Baldwin on her phone. He was impressed. Penelope came back home and was happy. Everyone was happy and they had a family hug as The Episode Ends.
Ariana Grande: Problem (Instrumental Only and Background Music)
Running Gags
Edit
Bud's Pets &....
Edit
End Credits
Edit
Winnie eats all of the Hot Mexican Jalapenos that her mom cooked and her mouth is starting to get hot and spicy.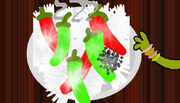 (The episode starts when Mr. Baldwin gives everyone their packets)
Mr. Baldwin: Ok here Milo, this is Kindergarten Stuff so you better get this right!
Milo: Yes Sir!
Mr. Baldwin: Ok Next is Shellsea A. Jewelerson.
Shellsea: Don't say my full name!
Mr. Baldwin: That is 7th grade.
Mr. Baldwin: And Last, but not least, Beatrice F. Goldfishberg!
Bea: So what grade?
Mr. Baldwin: Pre-Kindergarten because you always fail my class!
Bea: Aww What?
Mr. Baldwin: Ok everyone scram except Winnie!
Winnie: What is it?
Mr Baldwin: I want you to spy on your friends!
Winnie: Sorry Dad, I'm hungry for lunch, Mexican Hot Jalapeños that Mom is cooking, see you later!
(Later at Home) Winnie Grouper: (Yelling) NO DAD! I WILL NEVER SPY ON MY FRIENDS!
Penelope: What's going on here?
Winnie: Dad asked if I could Spy on my friends to see if they are doing their packets, But I don't wanna do it!
Penelope: Sweethart, I actually Agree with Winnie, Spying is wrong.
Mr. Baldwin: I have 50 dollars!
Winnie: I Said NO You Ignorant Boob! I have Bank Account Money!
Mr. Baldwin: Please!
Penelope: (Screaming and Yelling so Loud) SHE SAID NO YOU OLD PIECE OF TEAL POOP, CAN'T YOU UNDERSTAND WHAT SHE IS SAYING, SHE HATES SPYING, YOU ARE BEING STUPID! AND WINNIE, DON'T CALL YOUR DAD AN IGNORANT BOOB, THAT'S NOT NICE!(Penelope takes a deep breath and chills out)
Penelope: Now Don't you guys get it?
(Mr. Baldwin and Winnie and Shivering and Getting Scared of Penelope)
Mr. Baldwin: Just Spy On Them!
Winnie: (Talking Loudly) I SAID NO, AND PENELOPE SAID NO, YOU WANT ANOTHER PIECE OF MY MIND BECAUSE YOU CAN'T LOOK AT ME IN THE EYE WITH THAT STUPID POO FILLED FACE, AND I WON'T DO IT FOR 50 DOLLARS, AND PENELOPE, MIND YOUR OWN BUSINESS!
Penelope: Just do it for your father and stop calling me by my first name.
Winnie: No, Never!
Mr. Baldwin: JUST SO IT WINNIE!
Penelope: Say Please!
Mr. Baldwin: Stay out of this you 36 year old woman that chews her hair in the bed!
Winnie: SEE! MR. BALDWIN! Your being stupid!
(The family gets to a massive fight until Kimmy gets home from the library)
Kimmy: (she is so loud, that she grabs everyone attention) GUYS, SHUT YOUR FUCKING LOUD PIEHOLES, YOU ARE BEING TOO LOUD THAT I CAN HEAR YOU FROM 2 BLOCKS AWAY, WHAT THE FUCK IS GOING ON!?
Winnie: Dad is making me spy on my classmates and Mom is being too loud!
Mr. Baldwin: Winnie won't do her old dad a favor and Penelope needs to stay out of this!
Penelope: Winnie is being so rude and cruel and Your father is being stupid!
Kimmy: Ok, you guys need to be separated for 12 hours, and Winnie, Do the spying, Penelope, Go see a therapist, and Dad, I will teach you to be smart, not stupid.
Background Information
Edit
Winnie is a recurring character in this episode, meaning that this is NOT her full appearance.
Production Information
Edit
Winnie is voiced by Claire Corlett In This episode only because Kari Wahlgren was Busy.
There was an error when Winnie called Mr. Baldwin, Mr. Baldwin instead of Dad, Father, or Daddy.
Continuity
Edit
Allusions
Edit
References
Edit
Ad blocker interference detected!
Wikia is a free-to-use site that makes money from advertising. We have a modified experience for viewers using ad blockers

Wikia is not accessible if you've made further modifications. Remove the custom ad blocker rule(s) and the page will load as expected.