Son of a Sunny is the first episode of Season 4, A sunfish (Sunny) transfers to Freshwater High, and Oscar has A crush on her, she is enemies with Bea, and cousins with Piranhica!
Episode Summary
Edit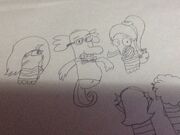 Sunny with a Chance
Team (Real Song, Sunny's radio with Oscar)
Running Gags
Edit
Bud's Pets &....
Edit
End Credits
Edit
Snake starts a sale for Piranha teeth, and Mouse gives her 700 dollars for All the teeth.
Mr. Baldwin: Hello Kids, there is a know student, A hybrid of a sunfish and piranha, She has orange-yellow, and has a sister named Moony! Meet Sunny Fishpatel!
Sunny: (sarcasm) Hello!
Bea: She looks like me! What the heck!
Oscar: (Whispers to Milo) She looks hot!
Milo: I thought you liked Bea!!! (Milo yells loud)
(Everyone Gasps, including Mr.Baldwin and Sunny)
Bea: What the Fack, Oscar, we cannot be friends, we cannot be dating, and date Sunny! I heard You whisper,
Sunny is hotter, Right?

Background Information
Edit
Sunny is a hybrid of a sunfish and piranha.
This is the first season 4 episode to be censored and bleeped.
Production Information
Edit
This is the first episode to be produced by Boulder Media Limited and also the first episode to have the same 2D animation from The Amazing World of Gumball.
Continuity
Edit
Allusions
Edit
Kyle Massey as Milo
Justin Roiland as Oscar
Chelsea Kane as Bea
Kari Walgred as Shellsea
Tara Strong as Sunny
Laura Ortiz as Piranhica
Dana Snyder as Mr.Baldwin
Ariana Grande as Moony (Old Voice)
Kimberley Mooney as Finberley
References
Edit
Ad blocker interference detected!
Wikia is a free-to-use site that makes money from advertising. We have a modified experience for viewers using ad blockers

Wikia is not accessible if you've made further modifications. Remove the custom ad blocker rule(s) and the page will load as expected.