Winnie gets blamed for Randy's misdeeds, she finds herself only one detention away from expulsion. It's up to the Python Nu Kappa fraternity to stop Randy and clear her name.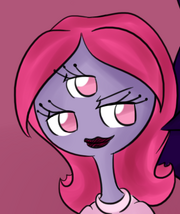 End Credits
Edit
Winnie Grouper: Get a grip, dad! I didn't do anything! Randy did those awful things. 
Running Gags
Edit
Bud's Pets &...
Edit
Background Information
Edit
The Python Nu Kappa fraternity has returned after Pixar Animation Studios' Party Central and Monsters University. But they look identical to Winnie Grouper, but they have the same hair and skin color from their counterparts, they have two eyes instead of three and they also have pink dresses instead of fluffy skirts and sweaters.
This is the first time a fish gets grounded since "Bea Sneaks Out".
==

Production Information

==
Continuity
Edit
Allusions
Edit
Kyle Massey as Milo
Justin Roiland as Oscar
Chelsea Staub as Bea
Kari Wahlgren as Taylor Shambers and Winnie Grouper
Dana Synder as Mr. Baldwin
Emilie Barlow as Winnie's Mom
John Susssman as Randy Pincherson
Beth Behrs (voice of Carrie Williams) as Shelly Shambers
John DiMaggio as Uncle Stinky, Shelly's uncle
transcript
Edit
References
Edit
 The Python Nu Kappa have Winnie Grouper's body
Ad blocker interference detected!
Wikia is a free-to-use site that makes money from advertising. We have a modified experience for viewers using ad blockers

Wikia is not accessible if you've made further modifications. Remove the custom ad blocker rule(s) and the page will load as expected.