Winnie gets a secret admirer in school, one of the reasons are somebody places candy and cupcakes infront of her door
So Winnie, Tabitha, and Sunny (possibly) look for her Secret Admirer.
Episode Summary
Edit
Running Gags
Edit
Bud's Pets &....
Edit
End Credits
Edit
Winnie Grouper: (At The Cafeteria) So, I guess I have a secret admirer.
(Tabitha is excited and Sunny spits out her soda)
Tabitha: Oh my gosh Winnie, that great!
Sunny: Excuse me girls, I need a moment.
(Sunny walks to a dark area in the school)
Sunny: How come I never get a secret admirer?
Random Boy: Excuse me, Can you hold the door? (The door slams on his face)
Sunny: I guess bad girls do finish last!
(At the cafeteria)
Tabitha: So do you know the person?
Winnie: No, not yet.
Tabitha: Winnie, you have Been eating alot of cupcakes, how many do you have?
Winnie: 12 dozen, from the secret admirer.
Tabitha: WHAT!
Winnie: Yeah, it's cool and sweet, I also got candy.
(Sunny Walka to them)
Winnie: Hey Sunny, what were you doing?
Sunny: Oh, I had to, umm... Give Something to Oscar?
Tabitha: Oh Please, You still have feelings for him!
Winnie: Well Talk about it, I'm finding my secret admirer.
Tabitha: I will help you!
Winnie: Sunny, want to come?
Sunny: Nope, Moony is sick.
Tabitha: Oh Ok.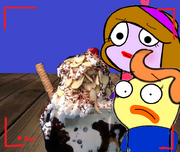 Background Information
Edit
The admirer's name is Dylan, he is the sexiest guy in school, who secretly likes Winnie.
Production Information
Edit
Continuity
Edit
Allusions
Edit
Clarence gets a Girlfriend: This is an Allusion of Clarence gets a girlfriend in the Cartoon Network show, Clarence.
Kyle Massey as Milo
Justin Roiland as Oscar
Chelsea Staub as Bea (cameo)
Kari Walhgred as Winnie Grouper
Grey DeLisle as Gwen and Tabitha
Tara Strong as Sunny and Dylan's Little Sister
Kimberley Mooney as Gillica
Emilie-Claire Barlow as Penelope Grouper
Alex Borstein as Agnes Grouper
Bella Throne as Kimmy
Thomas Dekker as Dylan
References
Edit
Ad blocker interference detected!
Wikia is a free-to-use site that makes money from advertising. We have a modified experience for viewers using ad blockers

Wikia is not accessible if you've made further modifications. Remove the custom ad blocker rule(s) and the page will load as expected.