After Bud's Pets exploded because of Bea's explosive birth giving (similar to Mr. Baldwin giving birth to babies) in hell, Winnie and her family and friends survived and entered a human experience of Valley Fresh High School and meet their human counterparts. This marks the first film in the Fish Hooks film series.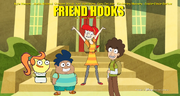 Production
The film is produced by Disney Television Animation and (other animation studio instead of Mercury Filmworks) and distributed by (film distributor). It is produced with CGI backgrounds and 2D flash animated characters. The film is rated PG-13 and converted into 3D.
Release
The film will be released theatrically on November 24, 2015.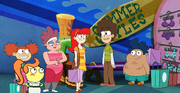 Ad blocker interference detected!
Wikia is a free-to-use site that makes money from advertising. We have a modified experience for viewers using ad blockers

Wikia is not accessible if you've made further modifications. Remove the custom ad blocker rule(s) and the page will load as expected.