Randy Pincherson makes a Bea Clone so the real Bea wont date Randy.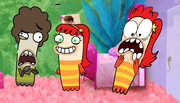 Episode Summary
Edit
Randy Makes a Clone Bea so the Real Bea doesnt date him, but Suddenly, Everyone thinks thats the real Bea and get Angry, But Bea has a plan to get rid of the Clone, She makes love with Oscar.
End Credits
Edit
No Snake or Mouse. It's shown Oscar and Bea having sex in the darkness.
Leave me alone.
Freedom at last!
Running Gags
Edit
Bud's Pets &...
Different Twins
Teenage Weddings
Memorable Quotes
Edit
(The Episode Starts as the camera moves to Bea and Randy as Randy tries to kiss her)
Bea: No Randy! I will never Date you!
Randy: Smoochy Smooch Kissy Kiss!
Bea: Oscar, Help Me!
( Oscar Comes and drags Bea as Oscar is angry at Randy)
Oscar: Randy, Don't be messing with us!
Shellsea: Randy, Just leave my friend only!
Fish Katy: Yeah Randy!
Shellsea: I forgot you go to this school!
Milo: But really Randy, Leave Bea Alone!
Everyone except Randy and Bea: Protect Bea! Protect Bea! Protect Bea!
Bea: Aww, You guys are so nice!
_________
"I don't give a algae about Randy and Bea!"-Evelyn
"We'll I do." -Shellsea
"San Calreñta, Shellsea, Bea texted me that there is two of her!" - Cinthia
_____________________________________________
Randy Fiancé: Randy, what are you doing with this Fake red head girl with green eyes!
Real Bea: Well It's true I have green eyes but lime green! AND HERS IS NEON GREEN!
( People notice that another Bea is here )
Cinthia:
Evelyn: Finally, Real Spainish Cinny!
Shellsea: What the fuck is going on here?
Randy: Never! I never tell the truth!
Randy's Fiancé: Randy! Confess! I don't have time for your little games!
Randy: But Aubrey...
Randy's Fiancé: Don't but Aubrey Me!
Real Bea: Randy, Why did you put a wedding with a clone of mine?
Clone Bea: Be Quiet!
Real Bea: Ok, Clones can die by glue!
Clone Bea: Wait What?
Randy's Fiancé: Here random Bea, Catch!
Real Bea: Say Glue Bye! (Bea squirts the glue on The Clone as the clone melts)
Real Bea: And Randy, I hate you!
Randy's Fiancé: Oh and Randy, We are over! Oh Vicky!
Randy: No, not your annoying little bratty sister!
Vicky: What did you call me? (Vicky slaps Randy)
(The episode ends as Oscar and Bea kiss, -In Shadow Only- )
Background Information
Edit
Cinthia "Shellsea's Sister" speaks fake Spanish.
Production Information
Edit
This is the first episode (And Only) that is Produced by Cookie Jar.
Continuity
Edit
Allusions
Edit
Kyle Massey as Milo
Chelsea Staub as Bea and Clone Bea
Lana Dey Ray as Fish Katy
Kari W as Shellsea
Ashleigh Ball as Shellsea's Sister Evelyn
Josh Summam as Randy
Tara Strong as Sunny
Kimberley Mooney as Finberley
Rachel Dratch as Koi and Esmargot
Autumn Wendel as Randy's Fiancé
Alex Hirsch as Clamantha
G Hannelius as Shellsea's Sister Cinthia
Piper Curda as Vicky
Template:Diamond designates a character that did not appear in of this episode
References
Edit