Season 4 is a fan made season by TiaraJetty and Other fans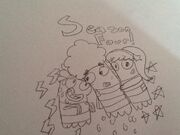 Season Premire (December 12 2014)

Season Finale (November 13 2015)
Dear Fans of Fish Hooks, thanks to 97kaylum1 and TiaraJetty, Season 4 was a success!
Look at Season 5, A mystery person made it.
Thank you!
Subcategories
This category has only the following subcategory.
Pages in category "Season 4"
The following 31 pages are in this category, out of 31 total.
A

D

F

G

G cont.

I

L

M

P

R

S

S cont.

T

W
Ad blocker interference detected!
Wikia is a free-to-use site that makes money from advertising. We have a modified experience for viewers using ad blockers

Wikia is not accessible if you've made further modifications. Remove the custom ad blocker rule(s) and the page will load as expected.