Penelope bets that Winnie can't stand 7 days without sugar, candy, and etc, Winnie challenges her, but Penelope keeps on spying on her.
Episode Summary
Edit
Running Gags
Edit
Bud's Pets &....
Edit
End Credits
Edit
Wendie is in a talking dog show and says,
Wendie: Hey, what do you call a sexy chicken?
Wendie: A Hot Chick! Get It?
Wendie: Ok, you don't get it!
Wendie: Conrows are kind of like braids, I don't know!
Wendie: Well there is this gun shop next to a liquor store near a chuck e cheese place.
Wendie: This Girl was Twerking ass on a boy named Steve Jackson!
Winnie: Wendie! Your talking! Get off of the stage, YOU STINK!
Wendie: Oh, got to run! (She runs as the credits end)
The camera cuts to Penelope and Winnie are eating peppers.
Penelope: Well i gotta say, you just made had enough of the bets. right, Winnie.
Winnie Grouper: Well, yeah. So here's the peppers and we'll eat them, right.
Penelope: (eating a pepper) Uh, you do realize that's spicy.
Winnie: Oh great! I treat!
Penelope: Nope, not just a treat for everyone! For Me!
Winnie: What! That's not fair!
Penelope: (Making Chicken Noises: Cluck Cluck! Your a chicken!
Winnie: Fine, I'm putting my foot down! I will finish that bet no matter what!
Penelope: Then eat 20 chili peppers!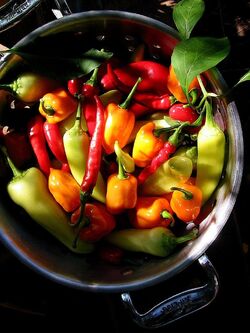 Winnie: Okay! (She eats all of the peppers and she is steaming) HOT HOT! (she drinks a glass of water)
Penelope: Wow! (impressed) Maybe you should go a week without any sugar.
Winnie: Oooh, Okay.
Penelope: and I'll have to keep seeing you not eating some sugar.
Winnie: Well, fine. I'll do it....no....matter....what.
Penelope: Good! (in echoing voice) LET...THE BET....BEGIIIINNNN!!!
_______
(Winnie comes home from school and starts crying)
Winnie: Wendie, why am I so stupid?
Wendie (barking): Your not, you just made a wrong thing.
Winnie: Wendie, your a puppy, I'm a fish, do you think that eating me will be the wrong thing?
Wendie: (barking) No, I would never eat you!
Winnie: Oh, good. You know, Wendie. I should've never disowned you to Bea. She's a jerk.
Wendie: (actually speaking) Yeah, she even has a secret room with pictures of the underworld!
Winnie: Oh, I know. Wait a minute you're talking!
Wendie (barking) sorry.
______
Tabitha: Hey Winnie, what did Mrs. Grouper pack for you.
Winnie: Umm.. Some strawberrys, milk, water bottle, carrots and sushi.
Gwen: Dang Winnie, are you on a diet?
Winnie: Err, No.
Sunny: I don't even give a fuck, my mom packs healthy stuff in my lunch box and Tabitha's mom packs lunch for me!
Tabitha: Shh! That was a secret!
Gillica: Winnie, what's wrong, your upset! Are you okay?
Winnie: NO, I'M NOT NOW BE QUIET AND SHUT UP!
(Everyone gasps)
Clamantha: Winnie, tell us!
Winnie: (sigh) Fine, my mom and I had a bet, If I lose, I will have healthly stuff all year! So I'm on this 1 week diet.
Sunny: That's cold!
________
Penelope: Well, Well, Well, only one more minute left, eat some Tomatos!
Winnie: Śérablò Lê!
Penelope: What?
Winnie: Thats Fish Spanish for NO! I'm tired of Fruit, Vegetables, Fish, Chicken and all those healthy stuff!
Penelope: 40 more seconds.
Winnie: Fine, I will eat! and if i win, you have to stop making bets and you can forget everythng i said about eating vegetables for 1 year!
(There Are 40 Tomatos and Winnie eats 8) = 32
Penelope: 30 seconds.
(Winnie eats 5 more) = 27
Penelope: 20 seconds!
(Winnie eats 12 more) = 15
Penelope: 10 seconds!
(Winnie eats 10 more) = 5
Penelope: 5, 4, 3!
(Winnie eats 5 more) = 0
Penelope: 2, 1!
Winnie: I WIN! I WIN! I WIN THE BET!
Penelope: Does this mean i have to eat healthy food for 1 year!
Winnie: Not this time! You're free to eat whatever you want, because I am Winnie Grouper!
Penelope: (happy) Aww thanks, Winnie.
(Winnie winks at the camera as the episode ends)
Background Information
Edit
Winnie wins at the end of the episode.
Winnie has help from her friends to stop someone from giving her sugared stuff.
Production Information
Edit
Continuity
Edit
2nd time Wendie speaks (Puppie gone bad)
3rd Time Penelope acts stupid (The Cheerleading Tryouts, Performance Happiness)
2nd time Tabitha and Sunny Eat Together (Life is like a box of Chocolates)
Allusions
Edit
All Eds are Off: This is an allusion of the Ed, Edd n Eddy episode where Eddy bets Ed that he can go a whole day without gravy. Also Ed is allergic to butterscotch pudding that makes his head swollen.
Kari Wahlgren as Winnie Grouper
Dee Bradley Baker as Wendie Greeper (Barking Voice)
Madeleine Peters as Wendie Greeper (Speaking Voice)
Grey DeLisle as Gwen and Tabitha
Kimberley Mooney as Gillica and Finberley
Tara Strong as Sunny
Alex Hirsch as Clamantha
Emile-Claire Barlow as Penelope Grouper
Bella Thorne as Kimmy
Atticus Shiffer as Albert Glass
References
Edit
Ad blocker interference detected!
Wikia is a free-to-use site that makes money from advertising. We have a modified experience for viewers using ad blockers

Wikia is not accessible if you've made further modifications. Remove the custom ad blocker rule(s) and the page will load as expected.